How do you know you have chronic beryllium disease (CBD) or berylliosis?
BeLP blood test
Detection and diagnosis of beryllium disease should initially involve a reliable blood testing method called the beryllium lymphocyte proliferation (BeLP) test . This blood test can effectively identify beryllium sensitization and chronic beryllium disease at an earlier stage, making it better than any clinical tests available. This blood test can also improve clinical diagnostic accuracy while correcting previous misdiagnosis.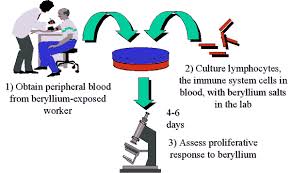 BeLPT is helpful in screening a great number of exposed workers since it is specific and sensitive. It has a very reliable positive and negative predictive value for chronic beryllium disease.
Onset of pathological symptoms
Diagnosis of beryllium diseases will heavily rely on the manifestation of pathologic changes such as granuloma and factual evidences that the  granuloma was caused by a hypersensitivity to beryllium or a positive lung proliferative response to beryllium.
Using this criteria, the diagnosis of chronic beryllium disease can now be made before clinical symptoms appear. Symptoms of beryllium disease include skin lesions, weight loss, fever, anorexia, cough and dyspnea. Kidneys stones, hypercalcemia and granulomatous hepatitis can also be a result of having this pulmonary granulomatosis.
Chest x-rays
Chest x-rays for beryllium disease may detect inflamed lung sacs filled with large numbers of white blood cells. The white blood cells accumulate when beryllium particles exist. Beryllium particles are usually inhaled by people working in the aerospace industry, alloy manufacturing plant or metal machine shop that is why chest x-rays may help in the detection and diagnosis of berylliosis.
Chest radiography usually detects bilateral, mid and upper lobe predominant reticulonodular infiltrates and medistinal adenopathy as well.
PFT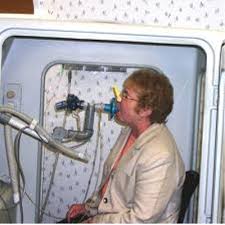 Pulmonary Function Testing (PFT) is a breathing test which is used in identifying a mild obstructive ventilatory defect, an early sign of chronic beryllium disease. Patients with CBD also have difficulty inhaling and exhaling sufficient amount of air. The result of a breathing test and detection of any breathing abnormality may help support other positive tests for CBD such as the chest x-ray and the BeLPT test.